Nybles
Taking small bytes out of information.
I started a Tech Publication for Students in March 2018
Why nybles? Why not any other name
Nybles or Nibble is a unit of information. 4 bits or 0.5 byte is a Nibble or a Nyble. Well we couldnt get the Nibble domain so we went with the other one.
TIP
A Nyble is half a byte
Why a tech Publication? Why not a general college one?
The gap between the industry or research is growing wider and wider with students. What i read on the internet or herd from people who are not in this College,often is an alien language to people here.
So we can say it is a "Translater", for the Klingon the Industry speaks.
On 12 August 2017, Nybles released Version 1.0. on May 2018 , Nybles moved to Medium
Nybles is now recognised as an International Tech Newsletter by the Indian Institute of Information Technology, Allahabad.
Our Journey so far
We started with beta edition of website .
View Old website Code on Github
The website was based on Jekyll. Adding an article was tedious since it required one to send a Pull request. Even though the team developed an editor to make it with ease people still found it hard.
== Closing in on Quantum Computing 12 Mar 2017 By Elaine Mary Rose - 7 min read ==
Was the first article to be published on the beta version. During revamp we are only taking the top 5 articles based on Google Analytics to the new platform.
So after 5 months on the same date we are releasing version 1.0.
We are making some changes during this auspicious time
Version 1.0 Ghost.org
The new website will be served on Ghost.org .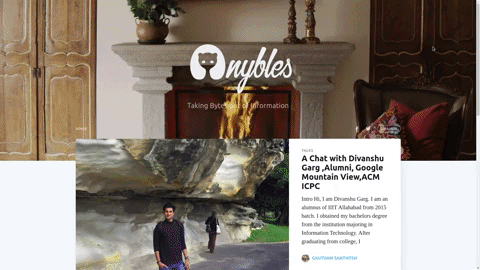 Why Ghost?
We wanted
Amazing admin panel
Quick integration with API's such as slack,facebook comments etc.
Markdown
You can checkout its cool other features at Ghost.org
We were using Jekyll till now, but sending pr for articles takes too much effort and learning curve for every new writer was high.
We Stopped using Ghost due to
Lack of audience.
Too much work, people just want to write.
Chatbot
We also developed a chat bot which you can talk to via our facebook page
Version 2.0 Medium
We migrated Nybles to Medium as it provides us with
A Good Audience
Very Good Platform without tweaks
We decided to shift focus to technical writing rather than spending so much time on fixing the blog.
Editors Note
"To destroy is always the first step in any creation."
We live in a world of social networking. We have a vast abundance of information in front of us each day. In fact the information we have is so much that we often forget what is important.
We would like to change this. By providing a medium which filters out the essence of what's happening around you, we bring you the raw news.
Nybles is an ambitious idea to bring forward the tech happenings around you.
Nybles Logo
There is a huge problem we face, we often don't realise how many amazing things that are happening around us. You might not even know about the awesome things your dorm-mate made or the things your friends have built. Maybe because he is too introverted to show it around.
With this initiative we will try our best to update you about the things that are happening in colleges.
We also bring your attention to the trends that are changing our industry from the perspective of your fellow colleagues.
Facebook : https://www.facebook.com/nyblenews/
Twitter : https://twitter.com/nybles
by Gautham